January 25th, 2011
One of the best tours you can do in the historic center of Naples Italy is to visit Naples underground, also known as Napoli Sotterranea.
This excursion will take you below the streets of Naples to wander through the city's underground system where an important part of Naples history lies.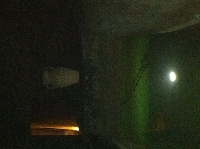 Travel Naples
Not only was a part of historic Naples built on top of a Roman theatre from which you can still see parts today but this hidden part of the city was the home of many italian refugees during WWII when Naples was bombed and left in great poverty.
The private tour or group excursion, both options are available, will lead you from the Roman period through the WWII period to today showing you how Naples underground has served its city.
The entrance fee for the tour will cost around ten euros and you can choose to do an italian or english tour. If you're doing the english tour your excursion will first lead you to one of the old houses that was built on top of the Roman theatre, today covered with buildings and only visible from under the ground.
Once entered the house our guide told us that unfortunately the theatre will remain covered by houses because the people are still living in them today!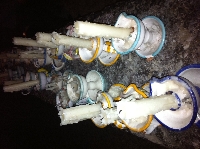 Travel Naples
She showed us a secret doorway behind a bed standing in the center of the livingroom which leaded to a kind of cellar. But as soon as we descended we realized we were now underneath the theatre and this house was one of those houses built on top of it! What an experience.
The underground part of the theatre was completely in tact and made us go back to Roman times. Our guide told us that the section of the theatre we had entered was the area where the orchestra used to be playing their music underneath the theatre while shows were performed in the actual arena.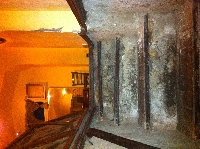 It was so unreal to look around and see ancient arches and old Roman brick constructions to look up to see the bottom of new built house while you can hear the people living in it actually walking around in it! It really is too bad most part of the arena is still covered up but who knows what archeologists will find in the future!
Our guide openen a cellar door and there we were between cars, scooters and laundry hung out to dry, right in the center of Naples. That door which leads to an ancient Roman theatre had a busy parking lot on the other side. We walked back through the main entrance of Napoli Soterranea for the second part of our tour.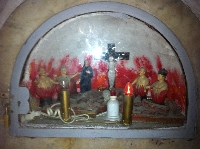 During WWII Napoli Sotteranea was an important hideaway place for peopl who had lost their homes and everything they owned. Archeologists had found all kinds of things from toys, tools, sewing machines to military arms and bombs.
It must have been terrible to live under the ground with so many people in such a time of fear. Our tour continued into the more narrow passages and we were asked to leave heavy items or bags behind. Armed with a burning candle our group followed our tour guide to an open space where a public pool had been recreated, underground!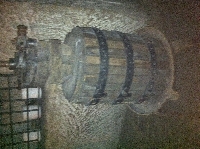 The guide explained us how is was difficult to keep a good hygiene because of the open sewer holes which almost made it impossibile to keep the pool from overflowing with dirt. From the pool area we moved to a stock room where food was held.
The tour was amazingly interesting and it really showed a completely different side of Naples. In total the excursion lasted for an hour and a half and since it leaves different times a day I would really recommend taking the time to ridiscover Naples from underneath it!