January 7th, 2010
Naples, either you love it or you hate it, a city where evil and devine things meet. Of course we all know the pizza from Naples as one of the worlds best inventions but did we ever taste their coffee? A sensation that goes beyond coffee beans!
This is definitely the best place to take a break, sit down and enjoy a cappuccino. At least, if you have time to park your car and sit down in front of one of the bars because tourists are easily spotted in Naples and while you where thinking about that ciambella to nibble on whit your espresso your car has already been detected by a group of little vespa monsters eager to steal your o so valuable tourist gear.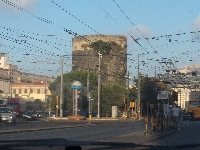 Tram lines in Naples, Italy
So in the end we parked the car literally on the terrace in front of pasticceria Gambrinus on Piazza del Plebiscito so I could have my coffee. I remember two dodgy individuals looking inside our car windows which reminded me we had to pay for our drinks and move on to the next attraction.
Naples is a beautiful town and there are so many interesting stops but the best thing is to see all these attractions by foot or bus because bringing a car is looking for extra trouble you dont need.