March 2nd, 2011
In January of this year we made a trip to Naples which lies on the Tyrrhenian Coast so to get there from Pescara where we live we had to drive across the country first.
Naples is a beautiful city with a lot of characteristic places to eat, shop or simply people watch.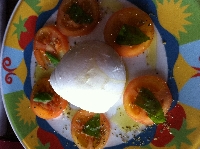 Where to go in Naples
One of my favourite places in Naples is definately the bay area where you can both shop at some of the best designer boutiques and taste some of Naples famous food like a Caprese Salad with fresh buffalo mozzarella or the best Pizza Margherita you will ever taste!