February 9th, 2011
This January I visited Graceland in Memphis Tennessee in honor of the 76th birthday of Elvis Presley. I had always wanted to visit but somehow never got the chance to go there untill my sister in law surprised me with a couple of tour tickets for my birthday.
She knew I was a big Elvis fan so she arranged for the whole stay and of course the guided tour around Graceland. It was quite emotional to finally step into his former home and see where the King of Pop used to live.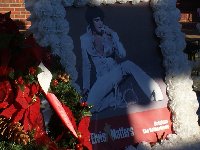 Vacation in Memphis
We stayed at a hotel near Graceland called the Quality Inn which is an airport hotel and lies nearby both Memphis Airport and Graceland.
We stayed for a total of three days in Memphis, enough to spend a long weekend there, and unfortunately we didn't see a lot of the city itself but who knows that might be a good excuse to come back!