December 26th, 2009
To get from the Fleurieu Penisula to Victoria we drove through Robe and because a lot of people told us that this seaside town was worth a stopover we decided to stay here one night during our roadtrip. From Victor Harbor we drove up north to get over the Murray River and of course take a picture in front of it:)
The night before we booked a room at the Motor Inn which is right in front of the Foodland supermarket and that turned out to be perfect for us. Not only was the room great with a dining area and a big plasma and dvd player ( dvd's are for rent at Foodland, 3 AUD per dvd ) but the owners of the inn also offer free internet and a free laundry service!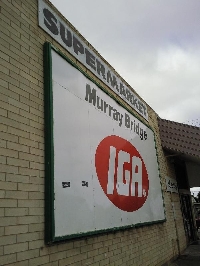 IGAAAAAAA
Besides Foodland you'll find an IGA supermarket in every Australian town around. Even if they would have a 100 habitants there would still be an IGA so don't worry about your grocery shopping:)
Driving through half of Australia wearing the same clothes we were kind of looking forward to wash up a little:) We turned up occupying the laundry room for most of the day, which didn't seem to bother anybody, and three hours later we had three piles of clean and dried warm clothes!!
In Robe itself the best thing to do is to go to the beach as the water is great and colours from turquoise to green and blue. Unfortunately for us it was a little bit cloudy so we didn't go in the water. The coastline is spectacular and reminded us a bit of the northern Western Australian coastline with beautiful coastal cliffs and high tides smashing on the rocks.
Robe is known for its rock sculptures and you can do a touristic scenic drive along the coast. After our scenic drive and another 100 pictures later we decided to get back on the road.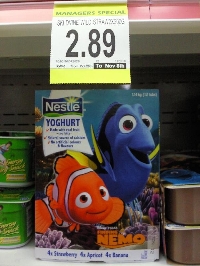 Nemo shops at IGA too
We did stop at another wine tasting :) :) on our way further east. As it was quite early for me, around 11 am in the morning, I gave up after a few bottles of reds.. We bought some great Chardonnay for that night and headed on in direction of Portland.