February 15th, 2011
To turn Valentines Day into something more than just one special day I surprised my wife with a long weekend trip to Rugen Island, the largest island of Germany.
Rugen Island lies in the Baltic Sea, just off the northern coast of Germany has a beautiful environment and is the perfect place to enjoy a romantic getaway weekend.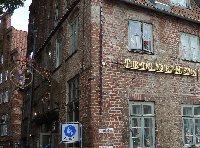 Travel Experience Rugen
After doing some research on the web I decided to book some tickets to get to Rugen Island and I rented two motorcycles to make it around the island since my wife always asked me to go on an adventurous island trip:)
We had a wonderful three days stay and visited different parts of Rugen Island. One of my favourite parts was touring around the northern coast where we went on a boat ride and visited the Jasmund National Park.
The Jasmund National Park has an amazing coastline and is famous in Germany for the stunning white chalk cliffs which rise above the Baltic Sea. The park also has a visitors centre where you can collect information on the several itineraries.
After our boat trip we toured to Cape Arkona which lies just north of the Jasmund NP and offers splendid coastal views.