March 4th, 2010
My trip to Cologne was very interesting and my first time in Germany.
Cologne is a very nice city to visit and especially the Cathedral, listed as a World Heritage Site by UNESCO, is gorgeous and houses the reliquary of the Three Kings.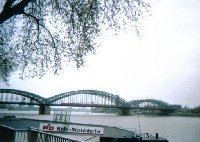 Photos of Cologne in..
The Cologne Chocolate Museum also deserves a visit. This boat shaped building is located on the Rhine river and once you're inside you realize just how big it is!
At the museum you can read up on all kinds of interesting facts and of course you can see how the real German chocolates are made. I can tell you now already that they are pretty tasty!