November 9th, 2009
In Portland we stayed at a great place, the 4 star Seaescape Bed & Breakfast. This is the only place where we arrived without booking accomodation and eventhough you can book all kinds of trips and rooms with the local visitors centre we drove up to Portland from Robe and got there around closing time which wasn't ideal because you don't want to spend your time driving around the place looking for a hotel..
Anyway in the end everything worked out great and we stayed at the Seaescape. This cute private run bed and breakfast has three rooms and prices vary from 150 AUD to 160 AUD ( with spa ) per night. Dvd's can be taken from the beautifully decorated shared kitchen and lounge area and use of the brand new kitchen is for free. In the morning breakfast was included and left on a tray in the kitchen. The breakfast was more than enough for us and included juices, bread, cereals, milk, tea or coffee and yoghurts. If you wanted to take any of these products on a different time of the day you were free to take them out of the fridge.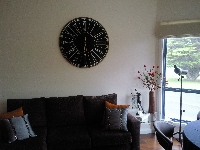 Sitting lounge
As for Portland we wanted to do a seal tour but unfortunately we were the only two people wanting to do the tour which didn't fit the minimum so we decided to drive up to Bridgewater , about 15k west of Portland, to sea the fury animals in the wild!
In Bridgewater there are several turistic attractions amongst which the fur seal lookout is probably the best. Okay, I admit the 2hour return walk up the mountain hill to get at the lookout is a bit tyring but in this case really worth the effort.
When you get over Victoria's highest hill it takes you about 600 meters to get to the first out of three lookouts and this one is probably the best. When you look down from the wooden platform you'll see young seals play in the water or sunbathing on the cliffs. This is the area where the non breeding seals hang out.
If you want to see some mommy seals with their pups you should head out to the final lookout which also offers you a great coastal panorama.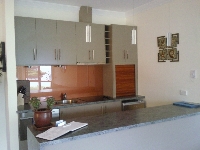 Shared Kitchen
Besides the seals you're able to visit Victoria's largest wind farm which is located on a beautiful piece of coast where you can visit the amazing blowhole and walk through the magic petrified forest.
This stoney forest makes you feel like walking through a real forest which seems to be frozen under a layer of red dust. At the end of the walk this natural wonder all becomes clear to you;)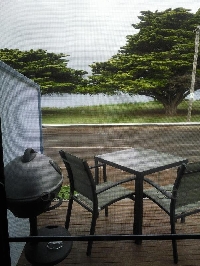 Balcony with BBQ
After a few cloudy days Portland brought us back the good weather and all to gether we had a great stay in Bridgewater aswell.