November 9th, 2009
Before starting our long expected Great Ocean Road drive we spent the night at Warrnambool which sits at about 12 km west of the Great Ocean Road.
From Portland we drove to Port Fairy for a short break and some grocery shopping. Port Fairy is a really nice and little seaside town with lovely shopping lanes and a small harbour.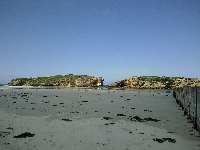 From the beach
After buying some fresh baked rolls at the local bakery we headed to our accomodation in Warrnambool where we stayed one night before starting our Great Ocean Road drive in the morning.
We stayed at the Atwood Motor Inn which was really economic and offers great value for money. The room was very clean eventhough it wasn't too spacious. The lady at the reception was really friendly and explaned us all the good places to visit and where to eat in the centre. Those tips were very helpful and later that night we ate at the cutest little Thai restaurant called Siamese on Lava St which later turned out to be reccomended on the Lonely Planet aswell. The restaurant offers a good tempura and spring roll and the yellow curry we ordered was yummie too:)
After dinner we were too full to stop at the local icecreamery for a treat which usually is really good so when you visit Warrnabool bear that in mind!
In Warrnabool you have to visit the Thunderpoint Lookout which offers a great panorama and some of the best coastal scenery.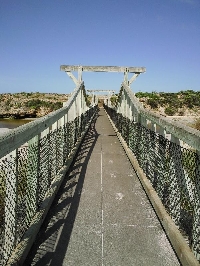 Bridge to the island
Another nice stopover you'll find at the Warrnambool port which looks out over two islands just offshore, Merri Island and Middle Island. Usually you can visit these islands by a walking accross a footbridge but unfortunately at the moment of visiting the area was closed for turists to preserve the wildlife on the island as Middle Island is an important breeding ground for little penguins and other wildlife. You can get on the beach in front of the islands though to take some pictures.
If you're more of a lake and picnic kind of person the park around Lake Petrobe is perfect for you as it offers plenty of activities and picnic benches. Up the hill you can look out over Lake Petrobe from the Warrnambool battery point where a portuguese monument is dedicated to explorers Vasco Da Gama and Prince Henry the Navigator