March 8th, 2011
After a good night's sleep at the Dead Fish Guesthouse in Siem Reap we woke up bright and early for our first day of temple sightseeing in Cambodia.
Throught the hotel we had arranged for a tuk tuk temple tour, that is the girl at the front desk had called a tuk tuk service she knew to help us out on our first day around Siem Reap.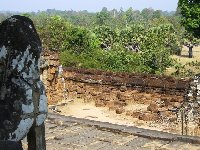 Tourism Angkor
Our driver took us straight to the gates of the city's most visited temple, the Angkor Wat.
This temple alone is enormous and to visit the entire Angkor Temple Complex you will be needing days if not weeks as the UNESCO site is huge.
The temples are gorgeous and the path leading up to the Angkor Wat Temple feels a bit like a touristic pelgrimage. Inside the temple, we keep taking pictures of the beautiful, but infortunate buddhist statues which are often beheaded but covered with colourful silk drapings.
From Angkor Wat we continue our hike to the Hindu mountain temple of Phnom Bakheng, dedicated to Shiva. After our visit here and a thousand steps later we head to Angkor Thom, the last capital city of the Khmer empire, located on the right bank of the Siem Reap River.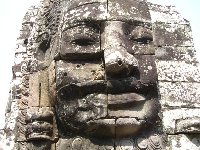 Tourism Angkor
The site of Angkor Thom covers over 9km2 and should be visited in different trips but make sure to see at least some of these key features; the South Gate of Angkor Thom a few km north of Siem Reap, the impressive Bayon Temple at the centre of the city and the beautifully carved statues on the bridge leading to Victory Gate.
We also visited the Baphuon Temple, northwest of the Bayon, the monastic complex of Banteay Kdei near Angkor Thom, the mountain temple and pride of Kmher King Rajendravarman Pre Rup and the stunning temples of Preah Khan and Ta Prohm where nature and history have married showing the ancient trees growing out of its ruins, gorgeous!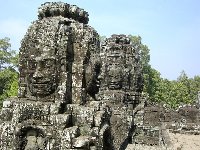 These were all the temples we visited during our first day of sightseeing in Angkor but the next day we went on another tuk tuk trip to see Hindu temples of Banteay Samré and Banteay Srei, located at about 25km from the main temples of Angkor Thom but again well worth the ride.