January 18th, 2010
Travelling through Cambodia, but also Laos and Thailand, we were lucky to see so much of these beautiful countries from their landscape, cultural traditions and every day life.
The best pictures to me were the once you take while walking around or the pictures you can take from the opening at the rear of a tuk tuk because on every angle you can see playing children, amazing temples but also some of the daily local pratices.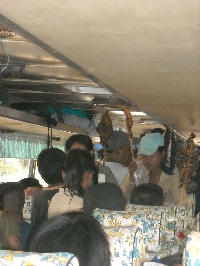 Crowded Cambodian bus
Sometimes that one picture taken in the alleys of a Cambodian street, on a night market in Laos or alongside the river in Thailand can be a hundred times more precious than capturing the worlds most beautiful beaches because it will give you something unique and authentic to take home and remind your travel by.