January 18th, 2010
After visiting Laos we arrived in the north of Cambodia by bus and stayed in the capital provence of Stung Treng, a good base to explore the northern region of Cambodia with its green hills and fascinating temple ruins.
The next day we decided to visit the Preah Vihear Temple which is situated on top of Pey Tadi, a cliff of the Dangrek Mountains region. The clime up consisted in so many stairs and hills I lost count but the view from the top was just breathtaking and the whole place was so mystical.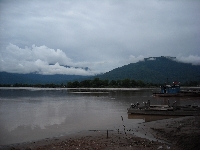 Amazing pictures over the..
The Preah Vihear Temple was built during the Khmer Empire and listed a World Heritage Site in 2008. To get to this popular site we had to cross the Mekong river at Stung Treng first and from there it was still a fair ride to the Preah Vihear Province. We knew it was going to be a very long day so we got up around 5 am ready to catch one of the first ferries to the other side of the river.
In the end the day paid off big time and the views from the valley of Preah Vihear were definitely worth the effort!