March 18th, 2011
In November I went on a city trip to Lisbon and while my boyfriend and I were there we rented a car to be able to explore a bit of the coastline in Portugal.
One of the coastal towns we visited was Cascais, a former fishing town located at about 30 km from Lisbon, jusst drive along the Lisboa-Cascais highway, and a great way to spend a weekend away from the city.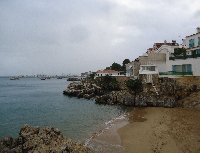 Travel Experience Cascais
Unforunately in Novembere we didn't have the best weather but I could recommend this travel destination in this time of year of of course in summer time.
Cascais has become more touristic over the year for its nice beaches, Praia da Rainha for example is one of them, cliffy coastlines and large yacht harbour. Also the city centre has a real charm with its old buildings and pittoresque spuare. A great place for a day trip!