July 15th, 2011
Me and my husband travelled to Italy almost every year but this year we decided to spend our holidays in the Region of Algarve on the southern coast of Portugal known as one of the most beautiful parts of the country.
We stayed at the Santa Catarina Algarve Hotel in Portimao which is located in the District of Faro so that would be the airport you'll arrive at. The hotel was great and we fell in love with Portimao which somehow reminded us of that romantic mediterrean taste of life you experience on a holiday in Sicily.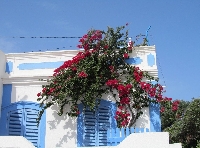 Where to go in Portimao
A lovely breeze, a warm sun, beautiful flowers, fresh fruit, friendly people and a stunning setting, what could we have asked more? Not a single thing!
Portimao and Faro are the two most populous towns in Algarve so you won't risk being bored or finding yourself with nothing to do. You could even hop on the ferry service from Portimao to Funchal, Madeira and spend a weekend there. I would recommend the Santa Catarina Algarve Hotel because of its great location, right on the beach of Praia da Rocha (5 min walk) and our room had a lovely balcony.