March 29th, 2011
A great day trip from New York, Niagara Falls. If you have enough days to spend make sure that you visit this beautiful place and get some pictures of the rainbow when it hits the falls.
I stayed a few days in New York with my boyfriend and we decided to go on a Niagara Falls day trip as well which really was worth the effort and we had a very nice time.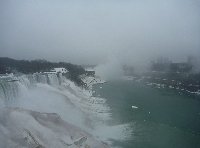 Travel Blog Niagara Falls
It was February at the time which made for a spectacular panorama with the snowy river banks and the city view in the background.