April 1st, 2011
After the new years celebrations back home our family was ready for the holiday of a lifetime! We had a planned a sort of family reunion and tropical vacation in one and had booked a luxurious Sao Tome and Principe Resort Holiday.
We stayed in several cabins, me and my wife had our own just like our daughters with their partners and children, at the beautiful Bom Bom Island Resort.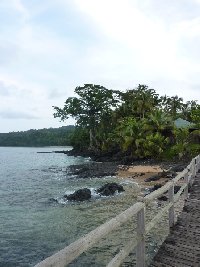 Vacation in Bom Bom Island
This jewel, Bom Bom Island, lies in the northern tip of the island of Principe and above the capital city of Santo António.
Principe is the smaller one of the two islands that form Sao Tome and Principe and known for its thick forests, which are part of the Obo National Park, and charming smaller islands.
The cabins we stayed in were located right on the beach and the only thing separating us from the beautiful Bom Bom Island beaches was our private veranda!
It was a very nice family holiday which lasted for ten great days and none of us was ready to leave Sao Tome and Principe at the end of it. We had enjoyed the beaches but also met the local people which are incredibly welcoming and we also went on some more active day trips like the Obo National Park hike we went on. The holiday made us bound a lot as a family and we discovered a little gem just off the coast of West Africa where we would love to return in the future.