November 19th, 2009
After coming back from the Tasman Island Charter we drove to Bicheno where we stayed the next night. Bicheno is famous for its little penguins that come on shore every night returning from their hunting for food.
This time we decided to go to the coast around dusk without an organised tour. We already did a penguin tour on Griffith Island, close to Victor Harbour, and realised it was something we could easily by ourselves.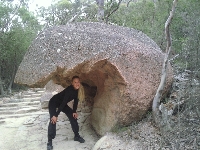 Hike to Wineglass Bay
Around 8 pm we left our hotel and headed to the Blowhole where the owner of the hotel told us the penguins were sure to turn up. She even borrowed us a flash light to be able to see where we were going. Be very careful with your lighting at night and make sure not to shine straight at the penguins as their eyes are very sensitives and they will be blinded by the lights used on torches or camera's.
Around 9 pm we started to spot a group of penguins hopping over the rock and the sight of that, photos or non, was just amazing and way better than with a tour!
On our way back we had to drive really slowly as a lot of penguins made their way through the grass on the road. We spotted lots of running penguins along the road and even a big possum and a group of rabbits:)
The next day we decided to visit the Freychinet National Park and its famous Wineglass Bay. At the entrance of the park you will have to pay an entrance fee to the park which costs 24 AUD for 24 hours.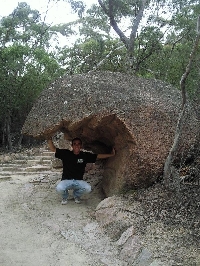 Freychinet National Park
On our way to Wineglass Bay we stopped at Friendly Beaches and Coles Bay to take some pictures. At Wineglass Bay you'll find a crowded carpark and loads of turists getting ready for the hike. You can choose from different hikes and walks with different lenghts and hiking levels.
We decided to do the Wineglass Bay Lookout walk which takes up to 2 hours return. This walk takes you up to the boardwalk at the lookout over Wineglass Bay. Another hike takes you to this lookout up the hill and then leads you to the bay itself walking down to the beach. For the die hard hikers you can also choose to do some heavier day walks.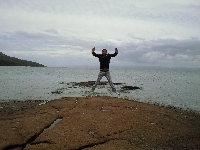 Happy at Honeymoon Bay
Make sure to register before leaving the park entrance. After your walk you can sign out to let the park rangers know you savely completed the walk.
We had good weather during our hike but the best thing is to check the weather forecasts so you can prepare for rain or cold. It's also important to bring enough water and some insect repellent.