November 21st, 2009
From Bicheno we toured north to St Helens to visit the famous Bay of Fires. This area is popular with turists for its perfect beaches and white sandy bays. Entering the Bay of Fires you can drive to Binnalong Beach which is simply amazing. We went there on a semi cloudy day and the water was still beautifully coloured in shades of light blues.
From Binnalong Beach you can drive to The Gardens which is a tiny farm town at the end of the Bay of Fires road. On your way you'll find some of the best beaches of Tasmania and definitely some of the best breaks for surfers. We stopped at bays like Jeanneret Beach, Swimcart Beach and Sloop Reef ( Indicated in the Lonely Planet as Sloop Rock ).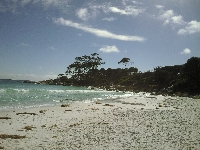 Beautiful beaches Bay of..
All these places were pretty much deserted and you can walk along the white sand beaches without feeling like one of the turists trying to get some good pictures. The Bay of Fires has a great range of camping grounds and we spotted a lot of people who pulled up their camper vans and tents to enjoy this gorgeous stopover.
St Helens is a good place to spend the night if you want to visit the Bay of Fires but just like in a lot of small towns in Australia don't expect to find a lot of activity around here. We arrived late in the afternoon and just went into town to do some grocery shopping and got back on the road early the next morning.