June 24th, 2011
The destination of my last holiday had a western edge to it and me and my best friend Tucker decided to go on a road trip through the state of New Mexico winding up in Taos a town in the north-central region of New Mexico which will take you back in time.
Taos or Taos Pueblo seems like a combination of the Wild West and something even more primitive like an African village in the heart of Burkina Faso (google The Grand Mosque of Bobo-Dioulasso if you don't believe me) and is an ancient Native American town.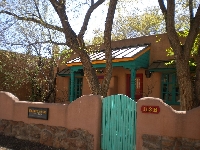 Holiday in Taos
Well actually Taos Pueblo and lies just north of modern Taos and is known as one of the most conservative communitives still out there.
We stayed at the Inn of the Five Graces in Santa Fe located about 70 miles south of Taos and this was more than the perfect place for us also because during the day we could go on trips while at night we could easily go out for dinner or drinks.