December 17th, 2009
In Brisbane we sure had some back luck with the weather and eventhough we espected nothing but sun in hot Brissy we had our share of rain!
The first night we were luckily it kept dry so we decided to go on a dinner cruise. Because of the time difference we were just in time for the boat cruise on the Brisbane River and hopped on right on time. The cruise was led by Kookaburra River Queens and included a buffet dinner, desert and live music. Unfortunately the cruise doesn't include drinks (!) and you had to buy those on the counter inside the boat bar.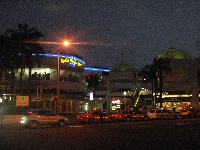 Dinner cruise on the..
A ticket to get on the 2 hours Kookaburra River Queens Cruise will cost you 75 AUD pp and the boats leave on tuesday and thursday-sunday. Boarding is around 7.30 pm and you will be back by 9.30 pm.
The cruise is probably the best way to see the Brisbane skyline as it gets lit up at night. The cruise will cruise up and down the river a few times so there will be plenty of time to enjoy the view after you've finished your dinner.
You can choose to purchase the pictures taken on board the boat once the cruise ends. Photos will cost you 15 AUD each.
We had a great night on the dinner cruise and were lucky to have booked it on a tuesday night as it was the only night we could have done the tour.