January 11th, 2010
Brisbane is located on the river and has one of Australia's most beautiful skylines at night as the coloured building, parks and even the giant wheel make the city looks like it's having a party.
Most of Brisbane's nightlife scene is found at Chinatown, also known as the Fortitude Valley or The Valley. Both this area as its neighbour New Farm are popular parts of Brisbane for cafe's, bars and restaurants.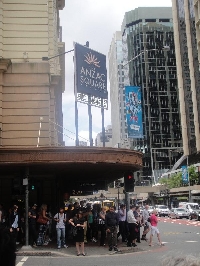 Busy Adelaide St
During the day there are several touristic attraction you should include in your walking tour like Brisbane City Hall, Anzac Square, King George Square and the St Stephens Cathedral. You will find plenty of eateries and take aways on Queen st Mall if you're looking for a break.
Also a nice area but on the other side of the river would be the South Bank Parklands which are easily accessed by City Cat or by walking accross the river. Here you'll find Brisbane's artificial beach area with real life guards and a beautiful esplanade. On Little Stanley St, just behind the beach, there is a wide range of eateries, restaurants, icecreameries and even a large cinema.
On your second or third day to Brisbane a visit to the Brunswick markets would be a great idea. Here you'll find all kinds of jewellery, accessories, vintage clothing and other fashion gadgets. Even if you're not interested in buying its a nice stroll away from town.