March 15th, 2010
I have been three months in Australia but it took me less than two weeks to fall in love with this amazing country.
I visited both Sydney and Melbourne which are both incredible cities and well worth the visit!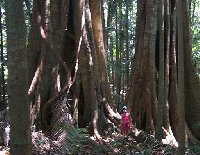 Photos of our trip to..
Its an amazing country with immense distances and a beautiful nature which gives you an incredible sense of freedom and the urge to explore more and more of this land.
The colours ocean and the climate are intense and more than welcoming, you simply have arrived in paradise!
We travelled from Brisbane on the upper East Coast with its splendid ocean all the way down to Sydney. From here on we went more south into the state of Vicotoria and its famous metropolis of Melbourne.
We also visited Ayers Rock and the rock of Uluru in Central Australia. It's amazing to watch the changing colours of the rock during sunset, something I will never forget.
In three months I managed to see a lot but unfortunately not every part of Australia but from what I have seen I can say that I'll be back!