February 5th, 2010
From Byron Bay we drove to Brisbane and we were just in time for the wednesday market on Brisbane Square. The whole square was filled with fresh produce stands and nice eateries where you're able to taste the dips and cheeses before deciding to buy them. We had some freshly squeezed orange jus and bought some french bread and croissants to fuel up for the day.
The Brisbane markets are also a great way to get to know a bit more about the locals and see how they interact when it comes down to finding good bargains. Once you're done shopping on the colourful markets you will be ready to explore Queen St Mall right accross the street do the whole thing again Brisbane city style.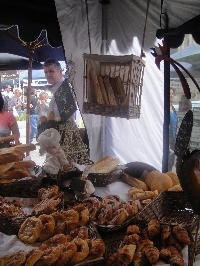 French bakery in Brisbane
Queen st is great for shopping and you will find all the city's major shops lined up on this part of town. Besides shops you will find a lot of nice eateries and cinema's to enjoy Brisbane a little bit later in the afternoon or at night.