December 19th, 2009
Rockhampton, we were told, is all about meat and delivers a fair share of its fine Ozzie steak to the rest of the Queenlanders. Entering Rockhampton you'll find a sort of ode to the might cow and statues of the proud animal line up along the road that leads into town.
Not only were we lucky enough to visit the meat capital of Queensland but it turned out to be also the day of their annual fireworks celebration so we were awarded with a beautiful evening along the Rockhampton river.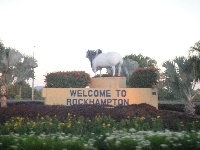 The meat capital of..
People in Rockhampton gather around one day a year to witness these spectacular fireworks on the river and we were just in time to join them! Of course we could have watched the fireworks from our hotel balcony but nothing beats a seat on the river beds:)
Sitting on our beach towels together with hundreds of locals we waited for the countdown. It took five seconds to get them started but the fireworks seemed to last forever and they were sooo beautiful, I'd never seen a fire works show like it and it would be have cost a year of meat seals profit to pay for it!
After the fire works people could stroll along the market stands on the river till late. There were also several after party's in the 'hip' Rocky nightclubs but we decided to let that opportunity pass..