August 16th, 2011
Spring is the best time to visit Japan if you ask me and not only for the weather but also for the beautiful cherry trees and great outdoors events.
I also managed to book a rather inexpensive flight in advance with Emirates Airlines and had a great flight to Tokyo where I spent my first week. I guess you will definately need a week to explore Tokyo but make sure to divide your days well and visit other places too.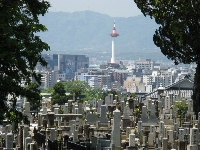 Vacation in Kyoto
I travelled a lot by train like to Kyoto which lies to the south and in my case it was perfect that you could buy a weekly train ticket to basically go everywhere so it saved me the hassle of making myself clear at the station:)
Kyoto is one of my favourite places in Japan and it really is one of the most visited places so there will be a lot of tourists all year round. You can also get from Tokyo to Kyoto per Shinkansen, the bullet train.
As soon as you arrive you will spot the Koyto Tower which is one of the many landmarks of this beautiful city. From there on go and visit Arashiyama and its picturesque lake which is located on the western outskirts of Kyoto where you can also visit the Iwatayama Monkey Park and legendary Sagano bamboo forest (see picture).
There are many beautiful temples in and around like Seiryoji Temple, Toji Temple, Kiyomizu-dera Temple and the Temple of the Golden Pavilion. At night the best place to go would be around Pontocho Street in the Hanamachi district where all the geisha houses are located. To head out for dinner try Kamo river which is one of the most romantic hot spots in town.