December 20th, 2009
From Airlie Beach we headed north to Townsville, Queenslands second largest settlement. We had a lot of expectations of Townsville but were a little dissapointed when we got there.
Townsville's main street, Flinders St Mall, turned out to be part of a reconstruction project and looked completely trashed. 60% of all the shops in the mall were closed for business, up for rent or completely trashed. We found a few sad looking souvenir shops, a McDonalds and an internet cafe. Luckily for us, all we needed.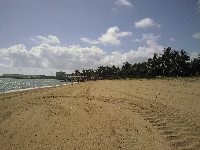 Townville beach on an early..
Most of the action in Townsville has moved up to the Strand, Townsville's esplanade, and this is where you'll find most of the reataurants and bars. Not a lot of shops, I guess people just drive to the bigger shopping centre's out of town.
The Strand offers a stretch of beach where you should stay out of the water though, because of the stingers. There is also an artificial lagoon and swimming area with lot of activities for the kids.
The next day we took a ferry ride to Magnetic Island. You should book for the ferry, especially if you want to bring your car. By car, the Fantasea ferry will cost you 82 AUD each way.
Magnetic Island is very nice and has some stunning beach with the most tourist part of the island in Horeshoe Bay. Here you can also visit the local zoo where you can hold koala's, lizards, alligators and snakes or get your picture taken with these cute creatures.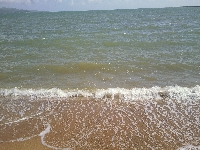 There was a turtle on the..
Avoid the horse riding in Horseshoe Bay. They will charge you 100 AUD pp and are probably the less professional people in the business. Especially if you have no experience with horse riding the guidance is zero which quickly will turn the ride in a complete nightmare which for us luckily ended without any major incidents but not having fun at all.