September 16th, 2011
Bordered by Morocco to the north and Algeria and Mauretania to the northeast, east and south Western Sahara has been a territory under pression for as long as its inhabitants can remember.
Eventhough Western Sahara was a Spanish colony since the 19th century the administrative control was left to Morocco and Mauritania back in 1975 causing a war.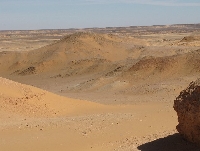 Where to go in Dakhla
As a result of these tensions a national liberation movement for the Sahrawi people was born leading to the foundation of the Sahrawi Arab Democratic Republic (you can see the RASD Libertad text on one of my pictures) which still today has to battle for its recognition.
While Mauritania called it quits Morocco has not left Western Sahara since and this ongoing battle is something you will come across with travelling through this arid but beautiful country with its welcoming people.
One of the places I visited during my trip (March 2010) through Western Sahara was Dakhla which falls within the Moroccan-controlled zone and where travelling remains hazardous because of the presence of mines in the berms. Me and my crew, a group of old adventure seekers, were lucky enough not to encounter any dangerous situations but could still taste the tension in the air which is a true waste of such a beautiful country.
We felt so welcome in every village as locals invited us into their homes and were open to tell us everything about their culture. I would recommend a journey like mine to anyone although it is always wise to look out for travel alerts as situations in countries like these can change climate from one day to the next.