September 16th, 2011
The journey made we rough but the destination could not be sweeter; Evengue Island Lodge, a paradise for wildlife-lovers and home to the Gorilla Project.
Evengue Island Lodge can be reached by boat eventhough it involves a 3 hour boat ride from Port Gentil to Omboue first and then you would have to hop on a speedboat or other motorized boat to get to Evangue Island, another 45 minutes away,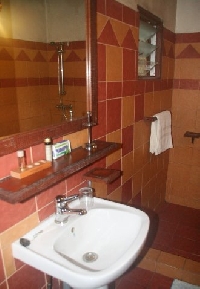 Tours Omboue
You can also choose to fly from Port Gentil to Loango, known for its National park, and from Loango take a 4 wheel drive to a mangrove area from where you can enjoy another 2 hour boat ride through the mangroves..This option would include a tour of the Saint Anne´s Church eventough it can be quite tyring and I would probably suggest the first option.
Besides you can always decide to go on different sightseeing and wildlife-watching tours after you have checked in!