February 9th, 2012
During a short holiday in Milan me and my collegues visited the Armani Restaurant Nobu and had a fabulous Japanese dinner. The restaurant is known to be pretty classy and visited by the rich and famous.
The food was great although the service lacked that same class and elegance Armani seems to stand for. Maybe because we weren't from Milan..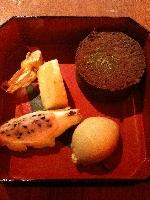 Trip to Milano
We had a vegetarian sushi platter in two (20Euros) as a starter which was really tasty and especially the cucumber and sesame rolls were delicous. The menu was endless and filled with Japanese and Italian descriptions, obviously, which made it a little bit hard for me to decide but in the end I have choses all the right dishes!
As a main I ordered the Salmon Teriyaki (about 20Euros)which was also very nice and I ended my meal with a yummy chocolate cake which was pure perfection as the chocolate came pouring out as soon as I had cut it open....good memories!
We had Vermento white wine which was nice as well. A great meal at a very elegant restaurant but Armani should make a better selection for its staff, at least upstairs, at Nobu.
After dinner at the Armani Nobu Restaurant we went clubbing at Armani Prive which was very beautiful and a great DJ and crowd. Be aware off the all drinks 20 Euros policy turning a soda into a a very pricy drink:) But dont worry about the money and enjoy the well dressed people and the great music!