May 3rd, 2012
Last week I booked a trip to Milan with Ryanair because they had some good deals and eventhough I'm not crazy about the service they I couldn't let this trip to Milan slip away!
I went to Milan with my boyfriend and we stayed at the Ritter Hotel and really liked the city.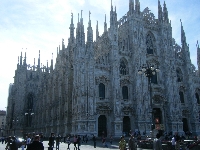 Tourism Milano
The Galleria near de Duomo square is really nice to go shopping or have a drink. We had nice weather and made several walks to the Castello and to the park.
The Ritter Hotel was nice and we had no problems to reach the center from the hotel. We also went to see a AC Milan soccer match which was something I kind of planned for my boyfriend. The atmosphere at the game was really great and it was a lot of fun.