February 9th, 2012
This was a picture perfect hotel outside of Milan and located in Novate Milanese which was great for us while visiting the MACEF Fair 2012 but of course way to far from the centre if you´re planning on staying for a holiday in Milan.
The cab ride from the aiport will cost you about 70 euro and staying at this design hotel can be expensive if you will be needing to travel by taxi during your entire stay.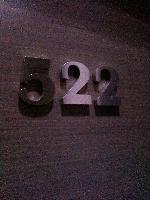 Travel Blog Milano
Travelling from the Domina Inn Hotel Milan to the fair costs about 15/25 euro per ride but depending on the ride the cab driver has to make before arriving at the hotel this price can vary.
In the evening their prices are preset at 6 euro´s plus the price of the ride to your hotel so it was normal that our rate started at 13 euros before the car even took off! But hey, its Milan:)
The hotel itself was great, the first night I shared a room with a collegue and the other nights I changed to a larger room with a king size bed. Both outstanding and very clean rooms.
Breakfast is good, dinner too. I would recommend staying at the Domina Inn Hotel when visiting or working at the fair. The staff was also very helpfull and polite.