May 3rd, 2012
During my stay in Milan we went at the San Siro Stadium to see AC Milan play against Juventus which was a great experience. The Italians go crazy about soccer and I think it's one of the best places to see what Milan is all about.
The whole atmosphere was amazing, we had great seats and even purchased some original Milan shirts to blend in:)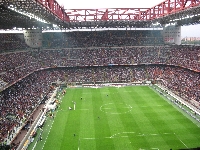 Travel Guide Milano
When you're standing on Duomo square you can see the San Siro Stadium in the distance and when I surprised my boyfriend with the AC Milan- Juve tickets plus a real Italian cappuccino and Gazzetta dello Sport his morning couldn't be better!
It was a great day out and we loved the rest of Milan as well. A beautiful city to visit on a weekend break or a short holiday.