December 29th, 2009
The Eungella National Park is one of the few places where you can spot the unique platypus in the wild. From Mackay we took a morning tour to Broken River.
The tour leaves about 5.30 am and returns around 1 pm so it was quite an early morning! This, or at dusk, is the best time of day to spot the platypus which knows how to hide very well during the day.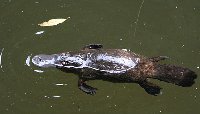 Platypus at Broken River,..
The company was called Natural North Discovery Tours, which is part of Reeforest Adventure Tours, and prices are 99 AUD per person. They do have a policy on minimum numbers but we were lucky enough people showed up.
The Platypus spotting tour includes a trip to Eungella National Park´s Broken River to spot the platypus when they feed, a trip to Finch Hatton Hilton for breakfast and a swim at the Araluen Falls.
You can call the number on the brochure for information about the tour, on 49598360