December 30th, 2009
The Gorge Wildlife Park in Cudlee Creek is located only 25 km from Adelaide which makes it perfect for a day trip away from the city.
The park which opened in 1965 has all kinds of wildlife from typical Australian Icons, to exotic animals and birds. Not only can you spot koala's, wombats, kangaroos, wallabies, dingos, echidnas, fruit bats and other animals in a natural habitat but you will also be able to hold them!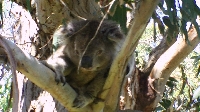 The Gorge Wildlife Park,..
The Gorge Wildlife Park is one of the few places where you can cuddle a koala. You can hold a koala three times a day and the koala's come out to meet the visitors at 11.30 am, 1.30 pm and 3.30 pm.
Other special features of the Gorge Wildlife Park in Cudlee Creek are their albino marsupials. You can spot the curious white kangaroos and wallabies or take your pictures with the Cream Wombat, the White Kookaburra and White Magpies.
The Gorge Wildlife Park facilities include a kiosk where you can purchase snacks, drinks, ice-creams, sweets and even animal food to feed the animals. There are biscuits and peanuts to bring the animals close to you and hand feed them.
There is also a souvenir shop and an onsite BBQ area. Bring your own food and make use of the parks free gas BBQ's.
The Gorge Wildlife Park is open daily from 9am to 5pm and located on Redden Drive, Cudlee Creek. Call for info: 0883892206