January 7th, 2010
The Platypus House in Beauty Point is one of the major must see wildlife attraction on the northern coast of Tasmania.
The Platypus House arranges tours which will pull you up close with this curious creature during the day. Most of the time platypuses can only be seen at dusk and dawn when in their natural habitat. The Platypus House is unique for its daylight display of Tasmanian platypuses and echidna's.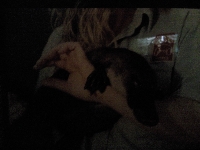 Tour guide with platypus in..
The tours include:
1 A fully guided tour of platypus ponds to watch these animals feeding and playing.
2 A walk through the echidna garden to see them in their bush setting.
3 An interpretation centre explains the biology of both the platypuses and echidna's.
4 A theatrette showing a film on platypuses.
There's also a cafe where you can purchase beverages and a souvenir shop for gifts and postcards.
The Platypus House in Beauty Point can be reached by coach and for coach tour with McDermott's Coaches you can call 0363943535.
Tours depart daily and the house opens at 9 am. The last tour commences at 3.30 pm in Winter and 4.30 in Summer.
You can find the Platypus House on 200 Flinders Street in Beauty Point or call 0363834884.