January 5th, 2010
If you're driving from Adelaide to Melbourne or the other way around a stopover just before Portland in Cape Bridewater would be a good idea. Not only is this area located in beautiful place but you will also get the chance to get close with the seals here.
At the Discovery Bay National Park in Bridgewater you'll find the highest hill in the state of Victoria and a truly magical landscape filled with wildflowers and coastal cliffs hugging one of Australia's finest bay's.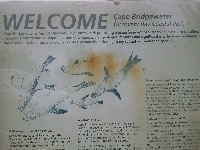 Discovery Bay Coastal Park
You can hike you're way over the hill to the end of the coastal cliffs where you'll find three seal loukouts. From these lookouts you get a real good view of the seals feeding and playing around. If you're lucky you will spot some baby seals in the seal nursery below the last lookout. Spring time is a good period to witness the newborns playing in the water and trying to catch the waves.
The hike in total is 2 hours return and the hill quite steep but the panorama is worth all the pain in your muscles!