January 6th, 2010
Puerto Lopez is a small fishing town in Ecuador and popular with tourists for its whale watching tours in season. The playful humpback whale immigrates down south along the coast of Ecuador between June and October and this is also the best period for whale spotting.
Whale watching tours are an important financial resource for the locals but their main activity is fishing. Fishermen leave the beach at Puerto Lopez day in, day out to come back with, who knows, the catch of the day. Tuna and marlin are good fish to sell and the bigger the catch the bigger the pay. Also dolphins are caught for sale on the market.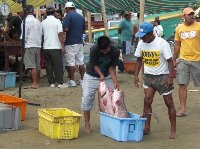 Fish market in Puerto Lopez
The fish are sold on the beach where the fish market of Puerto Lopez is located. No fancy fish stalls or buckets of ice to keep the products clean and fresh. In Puerto Lopez the fish go straight from the boat is the buckets and up for sale they are!
A few kilometers offshore is Isla de la Plata which is a popular snorkelling destination for its coral reefs and a great place to spot unique birdlife. The island is also called The Poor Man's Galapagos and some of the bird species found on Isla de la Plata are actually found on the Galapagos as well.
We were able to get a fantastic picture of the blue footed boobie which is priceless! Other species include albatross, pelican and frigatebirds.