January 9th, 2010
Salvador on Brazil's east coast is famous for its excilirating carnaval, beautiful beaches and friendly locals. Lots of reasons for a bunch of backpackers like ourselves to jump on the first night bus!
One of my friends had a cousin living in Salvador who had invited the four of us to stay in his appartment for the weekend so we had no trouble with finding accomodation! Later we heard from other people that it can be quite hard to find a good hostel during the carnaval as prizes tend to rise and dorms stuffed with too many daytrippers.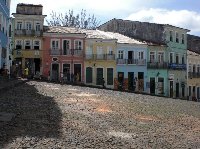 Praco do Pelourinho in..
The party started the evening we arrived in Salvador and getting to the appartment was pretty hectic with people smashing into each other, singing, dancing or getting robbed..Also something you should be very aware of in Salvador. The carnaval works like a magnet for little thiefs looking literally in your pockets for some extra cash. Luckily I tucked my money in my socks but some of the people in the crowd lost their wallets, camera's and other valuable stuff. So if you're heading to the carnaval, make sure to bring just a once use only camera and some pocket money, which you shouldnt put in your pocket obviously..
After the longest party of my life and three days of dancing, drinking and getting out of trouble it was time for something a bit more relaxing. We decided to head inland to Lencois but next time more about that!