March 15th, 2010
I have been to Salvador de Bahia where I decided to visit the quarter of Pelurinio. In this area you will find out just how bad some conditions are in which the locals are forced to live.
But Brasil isn't just about poverty and poor quarters. There is a lot of beauty too. Just take a look at the colourful houses, the cheerful people and the amazing beaches of Costa do Sauipe.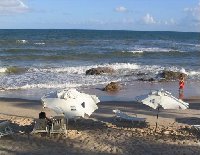 Pictures of a beach outside..
When you're in luck you can even go turtle spotting on these amazing beaches and get up close with some of Brasil's beautiful fauna.
The local cuisine will amaze you just as much and you will be able to taste some of the finest grilled meat accompaniend with a fruity caipirinha.
Brasil is a very welcoming country where you'll always find something interesting to do. Just go prepared and you will be able to enjoy this amazing country to the fullest!