January 15th, 2010
Coming to Australia I had made a list in my mind of all the wildlife I wanted to see and spotting some real crocodiles was one of my must do's.
The Kimberley region in the northern tip of Western Australia is home to freshwater crocodiles and some saltwater crocodiles when heading closer to the Northern Territory border. Usually you won't spot any saltwater crocodiles on the beaches of Western Australia but throughout the years some lost ones have been tracked. As a result you'll find road signs around lakes and lagoons west of Broome as a warning to tourists who feel like going for a swim.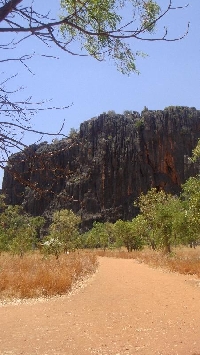 Amazing limestone rock..
Just a week before I arrived in Broome a giant saltwater crocodile had been spotted at the Willie Creek Pearl Farm just 20 kms out of Broome. Luckily the animal didn't come accross any swimmers but tourists in the North Australian regions should always be very careful when walking in these kind of areas.
From Broome I booked a daytrip to Windjana Gorge National Park by 4wd, a beautiful road to travel but not such a good idea for your rental Sedan.. The trip was great and the guide really turned out to be an expert on about everything. He even managed to pull off a great lunch after the Windjana Gorge hike with vegetables, fruit salads and all kinds of tasty things.
The hike into the gorge was just amazing and I felt so excited about finally seeing some crocodiles in the wild. The scenery will blow your mind with amazing green lagoons and huge limestone rock formations rising out of the water. Parrots sing from the trees while the crocodiles rest upon the sandy river beds.
The only down factor was the heat which started to worry me a bit as my fellow travellers literally turned red! Back at the parking lot we were told by the guide the temperature was about 43 degrees and it was spring time! Imagine summer in Windjana Gorge. You'd better not try to cool off in the lake..