January 15th, 2010
For some reason or another I expected Derby to be a nice town to visit but once I arrived here I realized that Derby actually has very little to offer tourists except for maybe its wharf.
After doing some research about the place I found out that Derby has a population of about 5000 people and is more known as crocodile country than as a thriving city. Driving through the town centre there is not much to see besides the Visitors Centre and therefor I headed straight to the wharf for some pictures.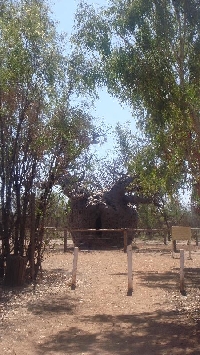 Vacation in Derby
This wooden wharf was built in 1894 during the gold rush to support the export industry of Derby cattle. Today this place is known by locals as a good fishing spot shared by the saltwater crocodiles that float in the water.
After a good nights rest in the Boab Inn which wasn't too bad I decided to get going and, why not, visit the Boab Prison Tree. This tree was actually used to keep prisoners from running away and seeing the size of the tree it looks impressive but you can't immagine people getting locked up in here.
The Boab Prison Tree was used against Aboriginal prisoners as a temporary place to lock them up on the road to the Old Derby Goal. Today this area is Derby's biggest touristic draw card which explains the sadness about this town..