January 17th, 2010
For lighthouse admirers the Cape Otway National Park overlooking the amazing waters of the Southern Ocean is a great stopover on the Great Ocean Road. Ok the road isn't the best and the trip might not even be worth the lighthouse but once you're up there the views of the ocean and the national park are breath taking.
For us visiting Cape Otway was a stopover on our roadtrip on the Great Ocean Road and to be honest the detour was a bit longer than we expected so in the end we drove even more:) The area around Cape Otway is great for walking, mountain biking or just to drive through.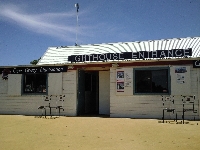 The Lighthouse at Cape Otway
The road is known for its many koalas sleeping in the trees and we were definitely among the numerous tourists parking their car alongside the road to spot these cute fury animals. We even were lucky enough to watch one of the koalas coming down from the trees! The koala just stared into the camera and seemd pretty ok with all the people starring at him.
The lighthouse of Cape Otway on the other hand wasn't as impressive and the guide didn't write anything about the 20 AUD entrance fee to see it! That's a lot of money for a lighthouse and to be honest the park built around it was pretty lame. No good walking signs, just an old telegraph station and major overprices souvenirs. In the end I was happy to cross the Cape Otway Lighthouse of my list and spotting the koalas so closeby was well worth the drive!