January 17th, 2010
The 12 Apostles are without a doubt the most popular attraction on the Great Ocean Road and hundreds, if not thousands, of tourists come here every day to witness this natural wonder.
Even if today only six of the twelve original apostles are still standing the Great Ocean Road doesn't lack popularity and if you want to visit this part of the Port Campbell National Park you might have to stand in line for that one perfect picture. A lot of people come to the 12 apostles to take photos at sunset when the colours or the rock formation seems to change with every minute reflecting shades of gold and pink in the ocean waters.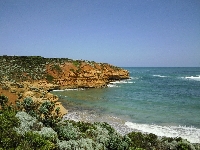 Looking out over Bay of..
You can take pictures from a boarwalk above the different rock formations but its hard to get on the beach. There are several stops on the Great Ocean road where you can get access to the beach like for example at the Gibson Steps so in that case you would have to walk back over the beach towards the 12 apostles.
The apostles aren't the only thing there is to see on the Great Ocean Road though and it would be a shame not to stop at other attractions like the Bay of Martyrs which is considered the first good stop on the ocean road. The Bay of Martyrs has access to an amazing beach with gorgeous rock formations and you should definitely climb down the stairs and witness the beauty from down here.
The Grotto is also beautiful and a great stopover. This natural rock pool was the result of heavy erosion and rough ocean waters splashing into the limestone caves creating a sort of little lagoon between the rock openings. Through time this pool became larger due to heavy wind erosion and the result of that is just stunning having created a rock arch bending over this oasis which overlooks the ocean.
There are several amazing arches at the beginning of the Port Campbell National Park which are all beautiful and worth a visit so take your time and bring enough water to drink a bites to eat because there will be no restaurant of 7/11 near you.