January 18th, 2010
Close to dolphin lovers favourite Monkey Mia you'll find Denham, Australia's most westerly settlement and a former pearling town. Denham is a popular place to visit because its a only 26 kms from Monkey Mia and home to the Francois Peron National Park.
The first thing on my list was to visit the national park because we rented a 4wd and it seemed like a beautiful area to drive through. Unfortunately the unsealed road you need to follow for about 15 minutes after taking the road exit leads you to a cross road where you have the choice to enter the Francois Peron National Park with your highclearance 4wd or to lower your tyres by yourself. Well, we did have a highlander but no highclearance 4wd so we could drive all the way back. No Francois Peron pour nous!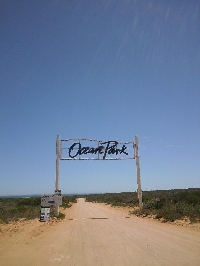 The Ocean Park in Denham
We did visit the Ocean Park which is located on the road driving into Denham so coming from Monkey Mia you would have to drive back the way you came from before entering town.
The Ocean Park is an artificial lagoon and home to turtles, sharks, squids and numerous fish. I'm not too keen on these kinds of zoos but I must admit that the shark feeding was pretty cool. To get into the Ocean Park we had to pay an entrance fee which includes a guided tour through the lagoon.
The park is located on a beautifully looking out over the ocean and has an adjacent bar and lunch area. The menu doesn't offer much but what they have is good. I ordered a huge slice of chocolate cake and sitting there on the terrace overlooking the amazing waters of Denham did feel pretty close to paradise:)
Visitors of the Ocean Park Lagoon also get an hour of free internet use and I can say they have a pretty good wi fi connection compared to other places around here. In the end we ended up using their connection for about three hours without anybody complaining so that was great!