January 25th, 2010
Calgary is located in Alberta, one of the southern states of Canada and home to the beautiful Canadian Rocky Mountains. The city of Calgary has developed a lot during the last few decades and is home to a fast growing CBD and an interesting melting pod of different cultures and influences in its downtown region.
Calgary has five main neighbourhoods with the most action going on in Chinatown and the Commercial Core of the city. One of the popular touristic attractions in that city centre would be the Calgary Tower from which you'll have an amazing panoramic view over the entire city. This 190 meter construction is used as an observation tower and is considered one of the tallest structures in Canada. Consider that only the CN Tower in Toronto is taller and measures up about 550 meters.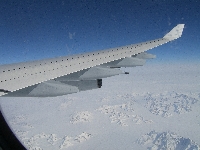 Canada from the airplane
The observation deck of the Calgary Tower offers an excellent opportunity to take pictures of the downtown core of the city and view its busy streets from a quite unique angle.There is also a restaurant in the tower and if you decide to have lunch around noon you will be in for a treat as the whole restaurant moves around so you can have a panoramic view of the entire city while enjoying your meal!