January 25th, 2010
Visiting a zoo is always great for the kids so they really enjoyed our visit to the Calgary Zoo. The best thing about this zoo besides the fact that it is enormous and you wont find a lot of time to get bored is that all the animals can be found in habitats which recreate all the different continents.
You will find the Canadian Wildlife in one section and African or Australian animals in their own space. Also the information panels were really helpful and educational. The kids loved the giant animal statues and kept asking for more pictures while they climbed inside a giant kangaroo's pouch:)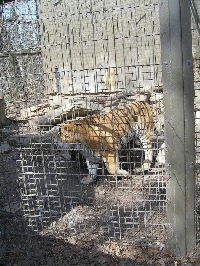 At the tiger cage
The Calgary zoo is open every day from 9 am till 5 pm and tickets cost $18 for adult and kids up to 12 years old pay $12.