January 25th, 2010
In Western Canada you will find a beautiful part of North America's Rocky Mountains which spread over almost 5000 kms all the way down to New Mexico in the United States. In Canada you will find the Rocky Mountains in British Columbia where it includes the gorgeous lakes and gletsjes of the Banff National Park.
Driving in the Rocky Mountains area is a real experience and you will have plenty to see between the several stops. Especially the kids loved spotting the deer and squirrels alongside the road and as soon as they saw something we pulled over the car to see these animals from a bit closer. We saw a lot of squirrels who weren't afraid to pose a little bit for the camera which was great. We also encountered a lot of deer and we even had to stop for a family of deer trying to get accross the road!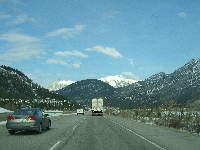 On the road through Banff..
Truly amazing and a great memory to bring home.