January 25th, 2010
The Banff National Park is located about 100 kms west from Calgary and is Canada's oldest national park. The little town of Banff which gave this area its name is located close to Lake Minnewanka and forms the commercial hub of the national park.
Besides Lake Minnewanka there are Lake Louise, Two Jack Lake, Lower Consolation Lake, Moraine Lake, Peyto Lake and many other lakes surrounding these.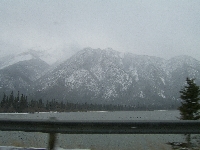 Driving through Banff..
The Banff National Park is known for its stunning lakes, impressive snowy mountains and beautiful wilfdlife. Driving through this region close to the border between the states of Alberta and British Columbia you will have a good chance of spotting elk and other deer species. The elk is one of the largest deer species and native to this part of North America.
Other larger animals found in the Banff National Park include wolves, lynx, grizzly bears and black bears. We did spot some squirrels, otters and deer but were lucky enough not to encounter any of these hungry predators.