January 28th, 2010
Portland is located just over the South Australian and Victorian border and known as an industrial town.
On the cliffs of the Portlands Point Danger you will find the only Australasian gannet colony on Point Danger. You can drive up to Point Danger by car but do keep in mind that the road is unsealed and even a bit rocky. Driving through some bush land surrounded by large factories you all of a sudden hit Point Danger. From the road sign where you can park your car there's a path leading up to the gannet colony. You can get pretty close but the colony itself is fenced and guarded by Maremma dogs not eager to let you stand close to the gate.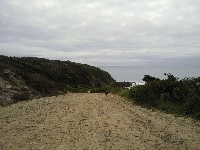 Driving up to Point Danger
The gannets arrived in 1996 on the coast of Portland and have called Point Danger their home ever since. The bright birds nest on Lawrence Rocks, 2 kms south of Point Danger and fly between the different sites. The gannets feed on little fish such as Pilchards and you see them often dive down in the ocean to bring in their catch.
There is a wooden lookout from where you can see the nestling gannets on the cliff edge but make sure you put your camera on zoom or bring a pair of binoculars.
The area around Point Danger is part of the Smelter Nature walk which was built by the Friends of the Great South West Walk providing several carparks, resting places and walking paths to make the area more accessible for the disabled.