January 28th, 2010
Jurien Bay in Western Australia is probably the most dull town in Australia and besides the BBQ facilities on the beach there is not much here to enjoy. The beach itself is OK but not one of the cleanest we'd seen in this part of Australia.
We stayed at this B & B called the On the Bay B & B and the room turned out to be literally in the owners home! Thinking Jurien Bay was some exotic seaside town we thought it would be well worth a visit but boy, were we wrong!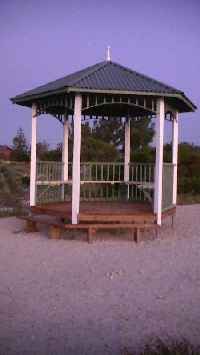 Pictures of Jurien Bay
Joe and Tina has some friends over so we could forget about a nice rest, they did let us pay the whole 120AUD! without any problems though, and the only Lonely Camel bar in town really honored its name so we didnt stay there for much time. I dont think I've ever had an entire bar, well lets say 10 locals, stare at us like that but I guess our visit was front page news for the whole week. The only tourists we came accross were some backpackers who stopped at the local picnic ground, where we used the BBQ , to wash up in the public toilets..I dont even think they stayed for a sleepover!
Well, lets just say the BBQ was really nice.